Old Country's New Clothes (2019)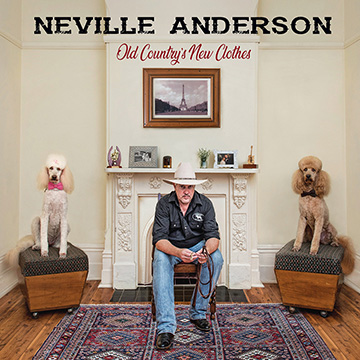 Order a signed copy:

1. The Blues Come Down
2. The Facebook Song
3. Too Much Pickin' Honkytonk Sample
4. Charcoal Hearts Sample
5. Old Country's New Clothes
6. Henbury Blues
7. Tides of Life
8. Not That Into You
9. For my Old Mate Peter Short
10. The Botox Song
11. Silver Moon and Twinkling Stars
12. Sunrise on the Edge of Town Sample

It has been quite a recording break between Lonely Places and Old Country's New Clothes. I have been very busy with Henbury Station since we purchased it in 2014, however during that time I was still writing the occasional song.
Jeff Brown recorded Old County's New Clothes and Dean Perrett recorded Henbury Blues which won us both a Gold Guitar in the Bush Ballad of the Year category of the 2018 Tamworth Awards.
By 2019 I felt I had written enough new originals to make a complete album.
I have known Leigh Ivin for over 20 years. For a number of years we used to perform during the Tamworth Festivals at the City Tavern, me doing solo and he with the band The Re-mains. I had kept in touch and used to see Leigh in Newcastle. Leigh would always introduce me as a "real country singer". I knew Leigh had done a few albums with the Re-Mains, Jackie Marshall and others at Vale Sound so when I was deciding where I might do my next album I asked Leigh if he would be interested.
Over a number of months we did some solo demos and tossed around ideas. Our plan was to create a singer song writer album that would be recorded with the band to give it a more cut back, natural feel. Leigh's idea was to take a minimalist approach and let the songs speak for themselves.
Leigh suggested Ronny Rindo on drums, Paul Owen on base, Leigh on lead guitar and me on rhythm guitar as the basis for the music.
We met at Ronny's family property which is located north of Tamworth and spent a weekend with the band set up in a tin shed, working out the feels and the arrangements. A few weeks later we returned to record the album in the studio which is set up in the old tobacco drying shed at Ronny farm.

Neville's Notes on the Songs
1. The Blues Come Down – This song is for those that have trouble shaking the memory of a failed relationship while they are trying to start again.
2. The Facebook Song – I am amazed at how some people take facebook relationships so seriously so I thought I would really go over the top with this song but it turned out not to be so funny.
3. Too Much Pickin' Honkytonk – One night I had been picking a few songs in the kitchen and having a glass of red. I was about to put the guitar and the wine away when the line " too much pickin' Honkytonk, too much drinking that red wine came to me. I sat back down and wrote the rest of this song. It became a drinking song that references a few of my favourite Honkytonk singers, Lefty Frizzel, Hank Williams, Merle Haggard Buck Owens George Jones directly, and Patsy Cline indirectly, for the real Honkytonk aficionados.
4. Charcoal Hearts - As a kid growing up on a NT cattle station in the 70's I often saw the steel water tanks at bores covered with charcoal drawings. The charcoal on the steel was like chalk to a blackboard. Travellers, stockmen and kids would take a piece of charcoal and apply their artistic skills to the tanks. It was outback graffiti.
If you had a love interest, it often meant drawing hearts with initials separated by an "L". Likewise you would use a pocket knife to carve names into the bark of the gum trees. The opportunity to romance in person was very limited so you spent a lot of time day dreaming.
I have vivid memories of driving to Mt Isa and catching the first glimpse of the old red and white stack on the skyline.
This song was for all the romances between young outback blokes and town girls that may or may not have had a fairy tale ending.
5. Old Country's New Clothes – My twist on the classic Hans Christian Andersen's tale of The Emperor's New clothes. The idea came to me after years of listening to the debates around "what is country music" and where it is headed.
Jeff Brown recorded this song on his album
6. Henbury Blues - When I left Ooratippra Station in 1988 I didn't think returning to the NT was an option. In 2014, after a 30 year absence, circumstances allowed my heart to return to the NT through the purchase of Henbury Station. My brother Ashley, runs Henbury day to day but I go up from Newcastle as much as possible.
I wrote this song around 2016 so when Dean Perrett rang to ask if I had any bush ballads he might record I pitched it to him. Deans version won us both a gold Guitar at the 2018 Tamworth Awards in the Bush Ballad Section. It was fitting that Jeff Brown ( who also recorded a version of Old Country's New Clothes) and Tracey Coster presented the Award.
7. Tides of Life - I had the lines " The tides of life throw us together every now and then, but the seas are way too rough for the ships we're sailing in" in my head for years but couldn't quite come up with the rest. When Bill Chambers and I were recording Lonely Places we got talking about co writing so I sang him the lines and he suggested we stick with the nautical theme. After a few emails we had competed the song.
8. Not That Into You - Sometimes you want to impress people so bad that you don't realise that your not even on the same wave length. It comes as a bit of a shock when what you think is impressive is not making an impression at all.
9. For my Old Mate Peter Short - Peter Short was my boss and my friend for many years. He survived one bout of cancer but it came back. The night he rang me to tell me his time was limited I was searching for a way to tell him how I felt and how I would miss him, so I sat down and wrote these lines as a poem which I sent to him straight away. I wanted him to know that he was an Old Mate even though we had never called each other Old Mate.
10. The Botox Song - There's a lot you can get done to change your appearance these days. When writing this song I imagined an older couple reading Glossy magazines in bed before turning out the lights. The magazines are full of enhancement and anti ageing ideas so I listed many of the options and decided to let the man and the woman put them forward to each other but deciding in the end, that just growing old together was their preference. After years of singing this solo with a set up dialogue it was great to have Tracy Coster join me in a collaboration so that the song could speak for itself.
11. Silver Moon and Twinkling Stars – In the bush, seeing the moon and stars just happens. In the city you can almost forget they are there. When you do notice them again they are like old friends, they haven't changed even if you forgot them for a while.
12. Sunrise on the Edge of Town – I have known John Elliot for many years. John is a great photographer and has had a long association with County Music. John posted an image on facebook of the sun coming up on the edge of Blackall in Queensland, taken from the end of his childhood home street. On seeing the image, I immediately knew there was a song there. That night the All Blacks were smashing the Wallabies so I turned off the TV and went and wrote this song.


Watch the full ABC Landline video on Henbury Station here.