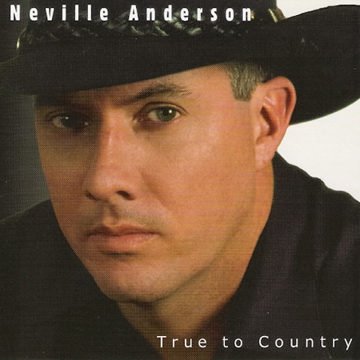 Order a signed copy: 

1. Blessings In Disguise Sample
2. Call Me Country Sample
3. Corners of My Smile Sample
4. Women of the Night
5. Dirt and Tar
6. The Same Address
7. Your Other Man
8. Old Images Sample
9. Little by Little
10. Friendly Henry
11. Here I Go Again
12. Wind Over Embers Sample
13. Heart on the Shelf
14. Heartbreak Highway
15. Country in my Blood
Neville began working on his debut album "True to Country" in Tamworth. He spent the 1997 festival checking out the musicians he would like on the album. In late 1998 the production began. He recorded at the Hilltop Studio with Gary Brown.
Gary is a second generation Tamworth country Musician. His father is the late Gentleman Geoff Brown, one of the pioneers of the Tamworth Country Music Festival. Geoff was alive when the album was being produced and would sit outside the studio door on his chair and offer helpful advice if Gary and Neville were stuck. Gary is talented guitarist as well as producing high quality digital recordings in his Tamworth studio. He played lead, rhythm, and acoustic guitar as well as keyboard on the album. You can visit Gary at his website.
The cream of country musicians in Tamworth worked on "True to Country". Rob Brown played bass. Four times TIARA award winners Pam and Kevin Spencer of the Spencer Band did harmony vocals along with Clelia Adams, Mary Lou Thorpe and Greg Williams.
Brett Dallas, one of the renowned country musicians from the talented Dallas family, played lead guitar and acoustic guitar. The wonderful pedal steel guitar on "True to Country" was played by Mick Wilson from Tasmania. A young Rusty Crook plays lead along with Dallas Southam. Trish Wilson played fiddle, the famous Laurie Minson Dobro and harmonica and sax was played by Laurie Lewis.
This album was Neville's first serious foray into music production and was the culmination of a year's work on weekends and after his daytime job in Tamworth. On this album you will find tracks that span his song writing career from his teens, right up until the album was released.
…
…
Neville's Notes on the Songs
1. Blessings In Disguise Sample – This song came to me during the recording of the album. I had the idea of counting blessings on fingers and linking these with the image of someone sitting at a bar and staring into his empty glass. He sees his hands which he realises are the main things in his life while he drowns himself and his sorrows.
2. Call Me Country Sample – I have a long association with the Dann family through School of the Air and Camp Drafting gatherings around Alice Springs. Scott Dann always put on great shows at Tamworth. He recorded ''Country in my Blood'' and ''Heartbreak Highway'' before I recorded this album. It was after Tanya Dann and Steven Foggarty's wedding that Troy and Scott Dann gave me the lyrics a song they had written called ''Call me Country''. It had a great chorus but they asked me to have a look at the song and see what I could do with it. I kept the chorus complete and rearranged and added some verses. In the studio we made the melody roll along with lots of pedal steel and guitar. At 4and a half minutes it has become a regular intro song for radio shows as it gives the announcers time to organise themselves and sets the scene for a good country show. I still get regular requests for this song.
3. Corners of My Smile Sample – I was loading my guitar into the luggage hold on a Tamworth bus going to a Country Festival in the Hunter Valley. There was a broom in the luggage hold and while we were travelling I thought of the line "I'll take a broom to your memory" The rest of the song built on the imagery of a rundown house that needed a good clean up to make it bright again. Corners are everywhere in a house and usually difficult to clean. I linked this with the idea of the faint traces of a smile starting at the corners of our lips.
4. Women of the Night – I wrote this song while still a teenager. I was starting to see that most people are quick to judge women whom they consider of a lower class than themselves. The ex on the other hand has taken the view that he is doing just fine having lowered his expectations.
5. Dirt and Tar – When you grow up on remote cattle properties you meet a lot of truck drivers. As a kid these characters are branded in your memory. Truckies like Ross Coop, Joey Fell, Gerry Noonan, Sambo, Dick, David and Alan Rogers to name a few, were my equivalent to modern day Sporting Hero's. The Rogers family who were synonymous with transport companies RPM and Tanami Transport in the NT, were family friends. I was thinking of all these people when I wrote this song.
6. The Same Address – A lot of relationships and marriages start out with so much promise and then slowly degenerate to a point where there is not much in common other than living under the same roof.
7. Your Other Man – There are quite a few songs about the ''other woman'' so I thought I would write one about the issues facing the ''other man''
8. Old Images Sample – People who have grown up or experienced life on outback cattle stations are a very small percentage of the population. They understand that the images remain strong and clear but it is not easy to find others to appreciate them. I wrote this song to document the special images I had from living out there but in a way that only others who had a similar experience can really appreciate. I tried to leave just enough detail for anyone who wants to know more to be able to ask or Google. This song made it to the final 10 in the Bush Ballad section of the Golden Guitars in 2000 and some have commented that they consider it to be one of the best Bush Ballads ever written.
9. Little by Little – This was a little play on the word ''little''. The context was a little different from the notion of quickly falling madly in love. I imagined these two re-united lovers having been through a lot since they were young and are finding their way again slowly but surely.
10. Friendly Henry – Merle Haggard mentions ''Friendly Henry's'' in his song "The Old Man from The Mountain''. My late Uncle Sandy also used this term to describe blokes that are always a little too friendly when you're out and about with your girl. I wrote this song on the basis of Uncle Sandy's sentiments to Friendly Henry's.
11. Here I Go Again – Another song I wrote on behalf of the truck drivers I have known over the years. As a kid I spent many an hour sitting in the cab watching the drivers handle their road trains with ease. They all had their own special routines right down to how they held the wheel, checked mirrors, checked tyres, lit their smokes or guided each others trucks up to the loading ramp with hand signals.
12. Wind Over Embers Sample – I have sat around a lot of camp fires and watched the flames and the coals change as the wind blows. Sometimes the coals with be covered in ash but if a breeze blows over them the coals will glow orange through the ash. I took the idea of the stirring of feelings from an old relationship and combined it with the stirring of the breeze over ash covered coals to write the hook line for this song. I then expanded on the fire/flame theme.
13. Heart on The Shelf –This song takes the notion of a heart being"left on the shelf'' and combines it with other shopping analogies. The heart is seemingly being sold to a potential customer by a helpful assistant but this also is the heart owner's way of telling their new love that they are available while protecting themselves from possible rejection.
14. Heartbreak Highway – I wrote this song thinking of someone out on a highway driving a broken heart and then linked the broken heart theme to the other things you can observe on a highway.
15. Country In my Blood – When I worked for Shell I wore a suit and tie to work most days but I still had my hats and boots in the cupboard. Not everyone knew I was from the outback and also a country singer. Similarly, not all my music acquaintances knew what I did for Shell so I wrote this song to help them all join the dots.