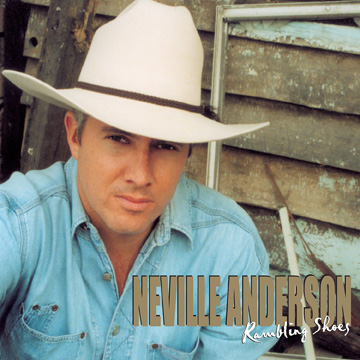 Order a signed copy: 

1. My Rambling Shoes
2. Like I Still Care Sample
3. The Band Played Waltzing Matilda Sample
4. Barossa Valley Wine
5. The Tracks You Left On Me
6. The Jimberella Kid Sample
7. Life's Like Rodeo Sample
8. Camooweal
9. Stranger
10. Tennessee Flat Top Box Sample
11. Leave Him In The Longyard
12. Here Comes That Rainbow Again
13. The Owl And The Pussycat
14. Movin' On
Just before the Tamworth Festival in January 2002, Joan Douglas from "The Pub" in Tamworth suggested to Neville that it would be really good if Neville and Bill Chambers could get together and do a traditional album. She said Bill had spoken of wanting to do one and Joan thought Neville had the sort of material that would suit.
Neville had heard Catherine Britt's album, Dusty Smiles and Heartbreak Cures, and knew that Bill produced the sound that Neville liked but another album at that stage wasn't really in Neville plan.
After the 2001, Festival Neville had written a song called My Rambling Shoes which he road tested at the 2002 Tamworth Festival. A woman came up to Neville after hearing him sing it and bought his first two albums because of that song. When he asked her name to sign the albums she said'' Irene Daley, you probably know my son Troy.'' To have Troy Cassar-Daley's mum buy two of his albums on the basis of an unrecorded song was a huge thrill and made Neville realize he had better do something about recording My Rambling Shoes.
Neville and Bill started recording the album, Rambling Shoes in late 2002. They recorded the drums and bass at Ramrod studio with Herm Kovac (drummer from the Ted Mulry Gang). Glenn Wilson did an excellent job on drums as did Simon Johnson on bass. They set up the tempos and feel that Bill and Neville wanted.
Then it was off to the "Bone Yard" which was Bills studio in his house at Woy Woy Bay. Over the next few weeks Bill and Neville took turns at preparing meals while Bill set about producing the album that Joan had thought about.
Bill called in some of the country's best musicians to add to the sounds that he had already created with his own array of instruments and vocals. Mick Albeck played fiddle. Michele Rose pedal steel, Glen Hannah on Guitar, Gary Steel played Accordion and Key Board. Rob Wilson and Audrey Auld provided the Harmonies.
…
…
Neville's Notes on the Songs
1. My Rambling Shoes – I got the inspiration for this song while walking home late one night after seeing Johnny Green and the Blues Cowboys performing at the 2001 Tamworth festival. I was tired and knew I had to host a show the next morning. My feet were sore and I could feel the rocks from the bitumen through the soles of my boots. I knew there had to be a line there somewhere so I started humming some lines about feeling the stones through the soles of my rambling shoes. I was trying to figure the shortest way home and got the line 'I've taken some shortcuts now I've only hard roads to choose'. I was walking home alone so 'as I stumble home singing these all alone blues' came to me as well. By the time I got home the structure of the song was set.
The first verse and the chorus came easily, but I spent a few months coming up with a second verse that I was happy with. One day the words just came and I knew the song was finished.
The song is not really auto biographical but I was pushing 40 and there are some days when you wish you could go back to yesterday.
The line 'It's a sad situation when you weren't even yesterdays news' sort of summed up my impact on the country music scene to some degree.
2. Like I Still Care Sample – One night at the Oasis Hotel in Tamworth, I got talking to Darren Howard about song writing and he said that he had written a few songs that he thought would suit my style. He sent me Like I Still Care on a cassette and I thought of putting it on my second album "Country Friends" but it did not quite fit with the theme of that album.
It is a great story song even though it is a love song so it was just right for Rambling Shoes. Nearly everybody that was involved with the album commented on how good a country song it was and they were pleasantly surprised to hear that it was home grown.
3. The Band Played Waltzing Matilda Sample – I heard Slim Dusty sing this song before I heard Eric Bogle's version which is why I developed a slightly different version. This song has always been a great song to perform as it is so well written and full of emotion.
I was singing it in a hotel before recording the album and while I was singing it people were pointing to the television monitor above my head because a report of the passing of the final ANZAC had come on. I decided then that this song had to be on the album. I originally planned to do an acoustic version but we decided to do the song with full instrumentation and harmonies. It was one of those songs that grew in stature with every new instrument and the harmonies of Audrey and Rob really topped it off. This to me was one of the surprise songs on the album.
4. Barossa Valley Wine - When I was a kid at boarding school in Adelaide my nick name was "Slim" for obvious reasons and a friend called Steve Nunzio gave me a Mike Quarmby tape. This song was on that tape. I lost the tape a long time ago but I've been singing the song from memory for over 20 years.
I was surprised when I leaned that Craig Roberts who wrote the song, has just had a whole album of his songs recorded by Jim Hermal. We used Gary Steels accordion on the track to give it the Barossa feel.
5. The Tracks You Left on Me - As you may know I recorded an Ed Bruce song titled Diane on Country Friends. Ed recorded a new album called This Old Hat in 2002 with this song on it and I was instantly taken by it.
6. The Jimberella Kid Sample – This is an old Slim Dusty ballad from way back. I loved this song as a kid and have been singing it for as long as I remember. I could have sold a lot more CD's if I had this recorded earlier. This one was for all the old timers who used to come back stage wanting to know if I had this song on CD. About a year after the album was recorded, in September 2003 Jonny Cash and then Slim Dusty passed away in the space of a very sad week. I am thankful that I recorded this song and "Tennessee Flat top Box'' before Slim and Johnny died so that my choice to record their songs stemmed from what they gave me in life rather than being prompted by their deaths.
7. Life's Like Rodeo Sample – I have lived a suburban type life for the last 20 years so the first line of this song is me all over "Well it's been fifteen years since I rode a horse but I still wear cowboy boots". The rest of the song is about a retired rodeo rider who is trying to stay in touch with the life he clearly loved by imparting his motivational wisdom on the younger generation. The sentiment can easily be transferred to anyone who has been there and is watching the changing of the guard but still feels they have something to offer. I feel this way when I mix with some of the younger generation of country singers.
I had this song in the mixing pot for a while but it took a lot of ingredients to make it work the way I wanted it too. Once again it is a song that gets a lot of comment and people are surprised that it came out of Australia.
8. Camooweal – My mother was born in Camooweal and her family is still part of the Camooweal community. As a kid we used to go there for the picnic races and gymkhanas. As my Grandfather was a drover based in Camooweal, I returned there in 2001 to sing at the Drovers Reunion and met lots of interesting people including Kelly and Marion Dixon who wrote Leave Him in the Long yard which is also on this album.
My Mum and Dad met and did some courting in Camooweal so this love song/ bush ballad has always had a special significance for me. Leave Him in the Long yard and this track was recorded without drums or base. The lead vocal and my rhythm guitar were recorded in one take; on one track to give the songs a live performance feel.
9. Stranger - Lefty Frizzell has had a huge influenced on country music. Burt Wilder has been a great supporter of mine and country music in general and he picked this song from his Lefty collection and suggested I record it on the album. Every muso involved in its production was instantly impressed by this song.
10. Tennessee Flat Top Box Sample – I have been singing this song for over 20 years and Johnny Cash is one of my all time favorite ballad singers. It was the first song that Bill ever performed on television so it was a joy for both of us to reproduce this old song.
11. Leave Him in the Long Yard - Nearly everyone knows this song. It is probably the most requested song on the streets of Tamworth every year. As I mentioned I met Kelly and Marian Dixon in Camooweal in 2001 so it is nice to sing a song written by someone you know, especially when it is a song that touches us all. It is a tribute song to all the old horses and men that have worked cattle in Australia. It represents the way that most of them would like to end their days, with the recognition of the work done and the ability to live out their days in the country that they know best.
12. Here Comes That Rainbow Again - This Kristofferson song is very short on words but huge in story. The scene is taken from the pages of John Steinbeck's ''the Grapes of Wrath''. As a song writer this is what I aspire to. The image this song creates is always so complete and clear and you cannot help but get drawn into the story. You feel as if you are sitting in the café watching. . Johnny Cash said it was possibly his favorite song. I have read the book since recording the song and realized how many great songs have been inspired by this book including Merle's ''Mamma's Hungry Eyes'' and Springsteen's ''Ghost of Tom Joad''
13. The Owl and the Pussy Cat – I found this song in one of my son's nursery rhyme books and liked the way Edward Lear had put the words together. I am always under pressure to sing kids song so I started to try a few different melodies and settled on this one. I also felt the story needed a little something else to make it on to a country album so I wrote a fourth verse. The last verse always manages to raise a few eyebrows when I sing it. I hope you like it, too!
14. Movin' On – This is the first song my son Joe ever sang on a microphone so I had to put it on for him. He called it the ''Big Eight Wheeler song''. It also seemed an appropriate song to finish an album called Rambling Shoes.